Chevron Scores Win In Convoluted Pollution Case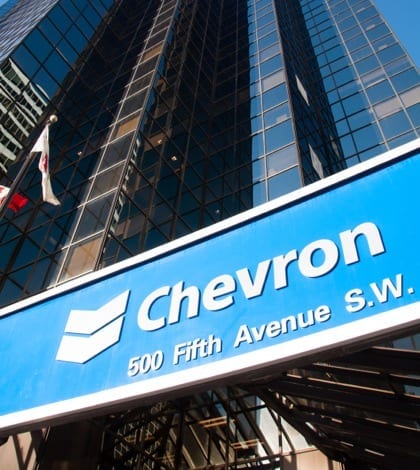 Oil giant Chevron scored a major victory this week in a decades-long case that is rooted in pollution in Ecuador's rain forests. Manhattan lawyer Steve Donziger scored a $19 billion judgment against Chevron in an Ecuadorean court three years ago, one of the largest environmental pollution judgments ever made. But in Chevron's countersuit in a New York district court, two decades of fraud and corruption – including blackmail and a sex scandal – led Judge Lewis Kaplan to determine Donziger violated the federal Racketeer Influenced and Corrupt Organizations (RICO) Act, and engaged in a conspiracy and criminal conduct.
The nearly 500-page ruling reasserts that pollution occurred in Ecuador, and Kaplan called the case "sad" and "troubling," and barred Donziger and other legal representatives "from profiting from the egregious fraud that occurred." Ecuadorian villagers had enlisted Donziger to hold Chevron financially responsible for pollution caused by Texaco Petroleum from the 1960s through the 1990s. Chevron bought Texaco in 2001, and claims the company has already paid $40 million for cleanup.
"Today's decision is unequivocal: The Ecuadorian judgment against Chevron is a fraud and is the result of criminal acts by a handful of corrupt lawyers looking to enrich themselves," Hewitt Pate, Chevron vice president and general counsel, said in a statement. "We are confident that any court that respects the rule of law will likewise find the Ecuadorian judgment to be illegitimate and unenforceable." Ecuador's highest tribunal had already readjusted the judgment to $9.5 billion.
The ruling, unless overturned in an appeals court, "may also lead foreign courts to take a second look at the enforceability of the Ecuador judgment," Ralph G. Steinhardt, a George Washington University law professor, told the New York Times. Chevron faces suits in Canada, Brazil and Argentina where indigenous Amazon farmers are attempting to seize assets.
In a statement released after the decision, Donziger called the ruling "appalling," and said it was the result of a "deeply flawed proceeding" influenced by Judge Kaplan's "implacable hostility toward me, my Ecuadorian clients, and their country." Donziger noted: "Nothing in Judge Kaplan's ruling will prevent my clients from pursuing the judgment's enforcement in other countries." He confirmed that he will seek "an immediate and expedited" appeal.