How Legal Operations Can Work With General Counsel: An Interview With Ken Crutchfield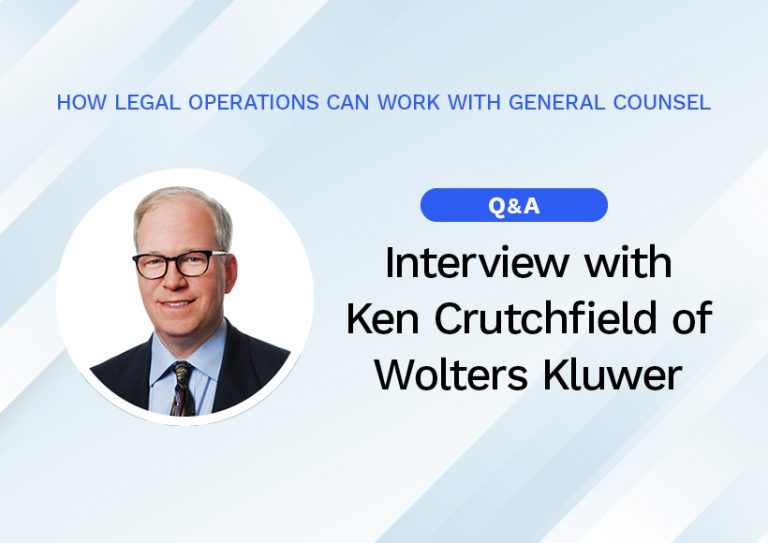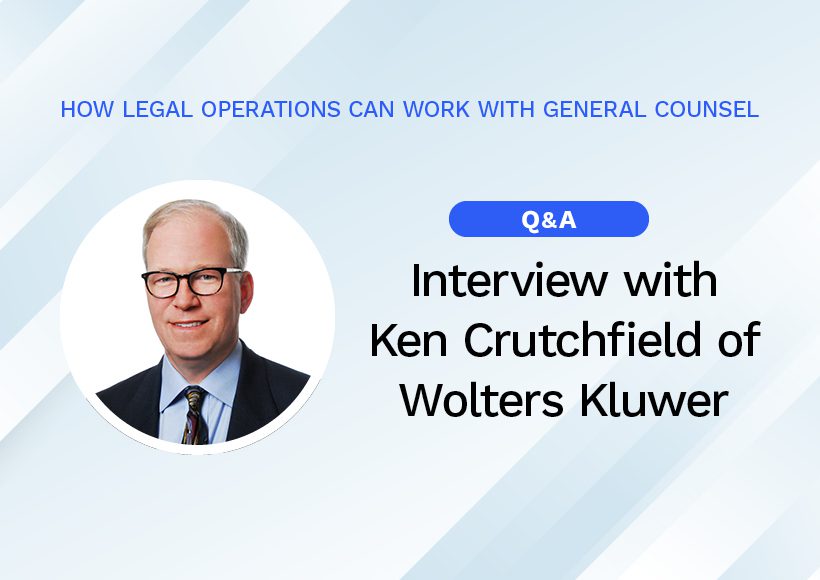 These days, the C-Suite is expecting more of legal departments, asking them to contribute to the mission and vision of the company, the same as other departments. This may lead to some resistance from the traditional legal department; however, the legal ops role can help bridge the gap between the C-suite's expectations and the legal department's existing workflow. To learn more, Today's General Counsel spoke with Ken Crutchfield of Wolters Kluwer Legal & Regulatory U.S.
So what are some ways general counsel can cooperate with legal ops to their mutual advantage?
Business goals are the first thing to start aligning on: what makes the business successful, what is the business strategy, and what are the priority initiatives and operating goals for the upcoming year.
These things help to create a common metric, a problem that everybody can get behind to solve, and from there, you can begin to get alignment between the general counsel and legal ops.
It can be helpful to solicit feedback from the stakeholders and customers of the law department: what's important to the sales team, what's important to the procurement group, what's important to the GMs and the divisions. All of that knowledge could really help define some of the things that would be helpful for prioritization from a legal ops perspective. And when you get into those things, you can start to define how you make the general counsel work better and have a stronger presence in the organization as a whole.
Getting to the point where you have goals and a rough plan is great, but the next steps of learning how to work together and achieve the results you are aspiring to can take time. It is not going to happen overnight. 
Still, as the relationship matures, you can begin to define priorities, explain why they are important, develop multi-year initiatives to achieve them, and measure the results. 
What can the GC do to help legal ops?
Communication is essential in any relationship, and a strong relationship between general counsel and legal ops is no exception to that. A great example of this is what I would call ethnographic research, literally "a day in the life," where legal ops would follow legal around for a full day and ask them periodically, "What are you doing here? Why are you doing that?" Those answers provide a tremendous opportunity to understand why and how an attorney is doing their work. And then by doing a standard business analysis and looking at process improvements, you can identify what the problems and pain points are, as well as understand the language of the people in the department so that you are effectively solving their problems.
So, let's flip that question then around and ask what can legal ops do to help GCs?
One of the goals of legal ops is to create operational structures to support an efficient, well-oiled machine. This means being able to measure and report on the results of what's going on with concrete numbers and metrics which were defined up front. And doing this supports general counsel in a big way.
If you are a new legal operations group, taking an inventory of what the department does is a great first step. How many contracts do we review, how many sales escalations come in, how many times is there an issue with IP or trademark?
Those sorts of questions can provide a baseline of what's going on in the department. From there, you can look into projects. How much IP activity is going on in your software company? If you are a regulated industry, what are the additional compliance aspects of a new regulation that has occurred?
If legal ops can map out what it takes to comply with a new regulation, then general counsel can explain that operationally up to the executive suite as to what the rest of the business has to do to support compliance or what the additional burden is. These are powerful things to be able to quantify and provide support to those types of initiatives.
Extending on that, what are some other projects legal ops should be undertaking?
Legal ticketing is a great example of a universal first step for a lot of organizations to consider. And then as the organization matures, additional projects that line up with the pain points and the business goals of the organization can be undertaken.
There are a lot of vendors calling with the latest trend or technology, AI, for example, that may be appropriate to apply to your process. But before adopting a particular tool or solution, you should focus on the pain point first, then look at the desired business outcomes, to have a better understanding of what technologies can actually solve your problem.
Any final advice you would like to share?
Always start with business problems and desired outcomes. This will help inform what projects and initiatives you want to pursue, particularly as a function of time across years. A big role of legal ops is focused on process improvement, which includes people, processes, technology, and data. Understanding those things, providing the training needed for adoption, and mapping out the processes that might need to change so that effective outcomes occur are all part of the legal ops role in supporting general counsel.
These are all very important things for legal ops to consider and for the law department to ultimately act on to drive success. And if the general counsel understands this and can be a supportive executive sponsor for things that are going to be optimized, including big changes, and advocating for that, you're much more likely to have a successful implementation and deliver on the results you're looking for.
Article originally appeared in Today's General Counsel's digital magazine:
Find this article interesting?
Sign up for more with a complimentary subscription to Today's General Counsel magazine.