Interview with Katie Debord, Vice President, DISCO and Alex Guajardo, Pricing & Analytics Office, Shell USA
Interview with Katie Debord and Alex Guajardo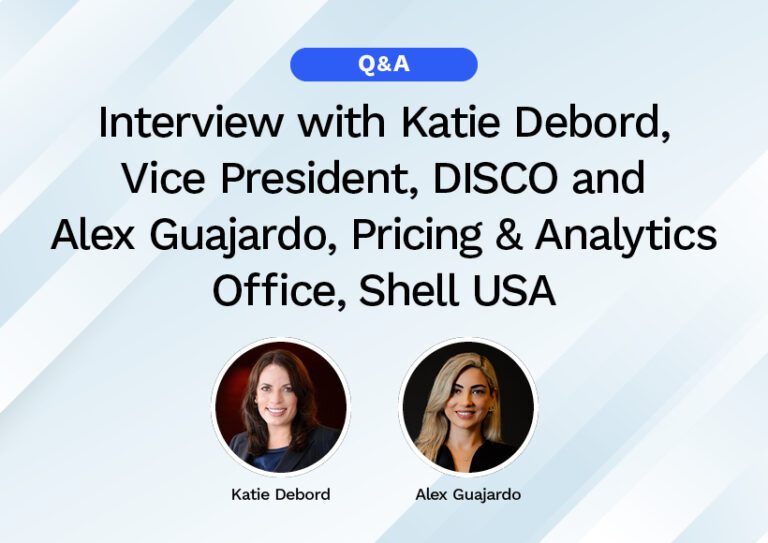 Katie Debord is Vice President of DISCO.
Alex Guajardo works in the Pricing & Analytics Office of Shell USA.
Today's General Counsel recently spoke with Katie Debord, Vice President of DISCO, and Alex Guajardo, who recently served as Pricing & Analytics Officer at Shell USA, and has now joined BCLP as its Global Director of Commercial Strategy.
Katie is a proven leader in scaling legal practice transformation, and partners closely with customers to further establish DISCO as a crucial partner and platform of choice for legal teams that are embracing technology to achieve better legal outcomes. Prior to DISCO, Katie was the global chief innovation officer at Bryan Cave Leighton Paisner, where she led the firm's international cross-disciplinary team dedicated to the innovation and optimization of legal services. She is a popular speaker about legal innovation at industry conferences, educational venues, podcasts, and thought leadership events.
Alex is an industry expert in Legal Operations with over 20 years of experience on both the firm and corporate side. She is currently responsible for the management and advancement of the Outside Counsel Program at Shell USA, while providing support to all legal departments globally. Her extensive experience in Legal Operations allows her to apply a strategic mindset to the operations of the team, business processes, pricing negotiations and day-to-day activities to ensure effective and streamlined support is consistently delivered. She is an active speaker in the Legal Operations community and Co-chair of LVN's annual conference.
This interview focused on the direction of work in the legal industry, macroeconomic conditions, transformation in law firms and corporate legal departments, and the impact of tech innovation and tech strategies. 
Could you describe your background and tell us what led you to pursue a career in the legal industry? 
Katie Debord: I started my professional career at the CIA as an intelligence analyst, and I became very interested in the law, the rule of law, and how rules are created to define conduct and make things more predictable from both a civil and human rights perspective. I went to law school, got a summer associate position with Kirkland and Ellis, and figured out that I loved litigation. So I became a litigator, and that's really how I entered the practice of law.
Alex Guajardo: I am not a lawyer. My first exposure to legal work was on a field trip when I was in the honors society, and we toured a law firm. I thought it was amazing and decided that working in the legal field was something I wanted to pursue. My first job was at Fulbright and Jaworski, where I started as a conflicts analyst doing conflicts checks. I worked in finance, moved into their IT department, and then went into practice management. After that, I landed in legal operations roles based on the work that I was doing. But it all started with a very innocent field trip to that law office.
What impact has tech innovation had on the legal sector in the past few years? 
Katie Debord: There is an old adage that lawyers hate technology, but I don't think that's true anymore. Lawyers are using consumer technology and understand and appreciate the benefits of technology in their lives. And those lawyers who have positive experiences with technology in their practice understand that tech-enabled solutions enable them to do things better, faster, and cheaper. You've got to find a way to be efficient. You've got to find a way to do things so that there is more quality control. I do think that innovation has changed the mindset of practitioners with regard to technology.
Alex Guajardo: We have seen so many new developments in legal technology, yet until recently, people were afraid to move into the tech realm because of concerns about confidentiality and data privacy. There are more safety protocols being put in place to ensure that our cybersecurity space is protected. Technology makes sense in many areas. It makes us more efficient, it makes us better at what we do, and it puts the right data in front of us. Technology innovation has really showcased how we can optimize productivity.
Katie Debord: I think we're already there. What I see is more adjacent professionals — project managers and process engineers — working with lawyers to deliver legal services to clients. They can optimize the way that legal advice and legal services are being delivered and, on the enterprise side, the way that the clients are ingesting and operationalizing the legal advice. We are also going to need other types of adjacent professionals such as technologists and data analysts. The old-school way was that a lawyer and a client were the only two parties involved in legal service. Increasingly, that is going to become a thing of the past.
Alex Guajardo: I would add that many of our laws and regulations have gotten more complex over time. The need to involve more people based on subject matter, jurisdictional challenges, and new regulations requires everyone to be more strategic on how we approach anything in front of us. We are doing more with less, and what we need to focus on for both the law firm and corporate legal department is to make sure that the right people are doing the right things, and that people are focused on things that only they can do. That is why we are working together — internal lawyers in the legal department and Legal Ops with its technology and vendors. These different pieces are intricately connected, and they're all necessary because we each bring something different to the table. Efficient collaboration is going to make things move in the best way possible.
How will macroeconomic conditions affect the industry in the near and long term?
Katie Debord: There are some areas of representation and some types of representation where the cost doesn't matter. You just need to get it done right. But for everyday operational legal advice, there is continuous pressure to do things better, faster, cheaper. I think that is very true on the enterprise side of the equation, and it's mostly true on the law firm side. I don't necessarily think, from the macroeconomic perspective, the environment is going to change that pressure.
We are also seeing a lot of pressure on the law firm side to secure lateral partners. A firm needs to demonstrate to prospective laterals that it is innovative and that it can give its lawyers the tools needed to do the best job they can for their clients. Lateral partners that I talk to increasingly ask questions about whether the law firm can enable them to meet their client's needs with a technological, process-driven approach. I think that will continue. We are also seeing combination activity again in 2023. As law firms get bigger and, as Alex was saying, the delivery of law becomes more and more complex. I think law firms, for the most part, are starting to figure out ways that they can address that complexity through mergers and acquisitions.
Alex Guajardo: There's always going to be a need for extra legal support. Our company, for example, is always going to have cases that need external counsel support, and when we think of it that way, our decisions depend on what we're trying to accomplish because we can't do it all, and we don't expect any of our law firms to do it all. Often, we just have to take a step back and say, "What do we need for this case and who do we need?"
As much as corporations have to understand the external law firms that support us, it's important for law firms to know their own identity, what they can provide, and what sets them apart. And, on the corporate side, we have to know not only what we need but also what we can deliver. This all affects the relationship that law firms and clients have with each other, and there are going to be continued pressures.
Katie Debord: Well, Alex, are there conversations about doing more insourcing of work on your end? Or is it the opposite, more outsourcing of work?
Alex Guajardo: Something that has resulted from the pandemic is that people have realized that they want work-life balance. Yet at the end of the day, there is still the pressure to deliver. In terms of whether on our end we will be doing more insourcing or outsourcing of work, there are certain cases that are high risk and high exposure that always tend to require a certain level of expertise. Communicating to our firms — what does success look like for this case, and what are we trying to accomplish —  is imperative. Sometimes there are things that we have to handle in-house and there are other things that require a different path. There is no cookie-cutter approach for legal support.
How has transformation impacted the firm's ability to drive profitability, productivity, and client retention? 
Katie Debord: There are a couple of elements to this. One is price predictability, which is good for both the law firm and the client. The client pays what they expected to pay, and the law firm doesn't have write-offs. Certainly, innovation and technology enable and support price predictability in several different ways. And nesting in faster ways of doing things enables you to go to a flat fee because you're using automation tools. When you have predictability, you have profitability.
The second element is what Alex has been talking about, the complexity of getting things done. The more that you can put the pieces together for your client, help them operationalize the advice you're giving them, and think through the best processes, the best practices, and the best staffing to manage different matters or streams of matters, the closer you get to your client. The more you address a client's business needs, and are not just thinking of them in terms of a one-off legal matter, the more they will want to work with you in the future. All of it is really intertwined.
Alex Guajardo: Law firms have been transforming by adapting to what the clients are asking for. The corporate legal side is also transforming, looking at how we can do things differently. It's not just about the price. It's about communicating what expectations are and what the firm can deliver. Transformation only happens if the firm and the corporate side are willing to listen to each other. We have to be willing to come to the table and have discussions about what the case looks like, what we're trying to accomplish, what the vision is for this year, and what challenges are coming up.
At the end of the day, law firms want to make money and corporate clients want to get the right outcomes at the right price and capture the right value. For a long time, there was a misconception that clients just wanted the cheapest and best, and that is not true. What we're realizing is that everyone needs to be on the same page concerning what budgets are actually paying for, what we get in return, and what services we should expect to see delivered. Transformation only happens if there's a truly collaborative effort on both sides.
How do you measure that? and how often? Even though your company and the firm are on the same page, how do you know if you are getting what you are looking for? What process do you use to obtain the results? 
Alex Guajardo: We have a very elaborate RFP process, and we have Alternative Fee Proposals (AFA) requirements around matters and casework. We also are required to put information in front of our lawyers so that they can ask the right questions. Our attorneys take more of a business approach to a case, that is, alignment rather than just negotiation.
What we look at is what are our actuals against our budgets, and what the intended purpose was. We know that not everything works in the way we intended and that deviation is sometimes necessary. When we deviate, how do we deal with that? At the end of the day, the biggest measurement is whether we get to the intended outcome. If so, what was the result? After-action reviews are necessary so we learn from those results. Sometimes we have unrealistic expectations on our side and need to communicate to the other side: "That isn't something that's within the boundaries or the criteria that you're giving me." Without communication, that intended outcome doesn't happen.
Katie Debord: I think this is where project managers can be helpful because they are trained to define the intermittent measures of success. What does success look like at various stages? Are we having a level-set conversation or are we doing what we said we wanted to do? Have things changed? And if so, are we addressing that change? This is an example of that adjacent expertise that I think is becoming important — to make sure the lawyer and the client stay on the same page concerning what's happening and what needs to be done.
How does what's happening with transformation differ from a couple of years ago?
Alex Guajardo: We are in a different mindset than we were a couple of years ago and are applying the terms "pre-pandemic" and "post-pandemic." Everything is no longer a crisis or an emergency, and now we can see that the pandemic has allowed us to prioritize things a little more realistically. Pre-pandemic, we were just trying to put out fires and didn't take time to slow down. Now, we are being more flexible and understand that not everything requires an immediate response, giving us more time to prepare. That is where I've seen the biggest change. I think we're all more willing and open to giving things additional time if it is necessary.
Katie Debord: I had been working with an international team for years before the pandemic so I was familiar with communication platforms, but many people were just starting to use Zoom for the first time. And everybody saw the hilarious video of that poor lawyer who was on a video conference with a judge, and the lawyer's face appeared as a cat. It allowed us to be more forgiving of ourselves and understand we just had to get up to speed with technology. And ultimately, I think it gave people more confidence in using technology and adding it to their basic skill set. Again, as Alex said, we are being more flexible and recognizing that in some ways we're all learning together.
Alex Guajardo: We have been more adaptive and adoptive of new technology. One example is how our company finally implemented electronic signatures, which we had been trying to do for years but only on an on-and-off basis. Now, because people are working remotely and can't get their printers to work at home, it's the norm for us. It seems like something so simple that we should have been using it for a long time, but people weren't comfortable with the idea. When we couldn't scan and transmit, or drive to someone's house because of the pandemic, electronic signatures became a necessity. It made us more adaptive to new technology. Now, when technology comes along, the instantaneous response is not "Wait a minute, do I need this?" Instead, it is "How can this help me?"
What are some steps (both small and large) that organizations can take to bring innovation and tech-focused strategies into the practice of law?
Alex Guajardo: We've been doing the same things for a long time with some of the same processes. But after we've implemented them and they seem to be working fine, there can still be breakdowns. Even if a process is working well, it's important to ask, "What modifications do I need to make?" If we don't do that on a continuous basis, we will never improve because change happens continuously. Technology can do everything under the sun, but if you do not have a process around the technology, it will fail. Then people lose confidence in the technology, the data that the technology provides, or the process that it's supposed to help. We have to take a step back and be ready to assess and ask, "Am I doing the right things in the right place?" Only if the process is in place can you implement the technology to go along with it. I am 100% convinced that process improvement is always going to be critical.
Katie Debord: I'd say 1,000%. There are so many companies I've spoken with that want to implement a contract management system, but they have not done the work to understand their current processes or optimize them for the technology. Just slapping technology on a bad process is a recipe for disaster. So absolutely, process improvement has to be the first step. The next step is evaluating what can facilitate that process, for example, an automation tool. The e-signature tool is a perfect example. Where can we eliminate humans entirely? How could we automate term sheets with pre-approved terms by the general counsel's office so that the business knows what agreements they can enter into without having to go through legal? All of that becomes part of the conversation once you've figured the process out.
Would you say that change management and training are important components of process improvement?
Alex Guajardo: When we're having any issues or challenges, we look at the process, the training, the documentation, and the people. I think the first reaction is that the employee must not know what they're doing, but it's not always the employee's fault. Sometimes the process was not in place. Sometimes neither the documentation nor the training provided enough information for the employee. Both training and documentation are extremely important.
Sometimes, too, we overcomplicate things. For example, the instructions may be too complex and may be based on the knowledge of someone who has been performing a job for so long that it is second nature. Someone completely inexperienced with the process should be asked what it looks like to them. What they have questions about will be completely different from someone with years of experience, who may not realize the need for in-between steps. And these steps are very important.
Katie Debord: I completely agree, and I think from at least a law firm perspective, it will be the case that an organization will bring in technology and expect users to use it just with basic training. The users don't feel like the trainers understand their practices or what they need out of the technology. And the trainer doesn't have enough information to provide that kind of context to the user. The more that people who are engaged in change management really understand how the users will be using that technology for their specific use case and how that technology can help them, the chances of adoption become far greater. It's important to think not just about setting up training, but who is training, what they understand about the end user's objectives, and how they'll be using the technology.
Alex Guajardo: You can't assume that people are ready to use the new process or technology just because they have had basic training and documentation. After the initial training, you need to follow up, say, six months down the road, and ask your employees, "As you have been working with this, what issues have come up or what didn't we consider before?" The documentation and training will need to be adjusted for those changes. We have to be open to saying that we are making minor changes from the original path and that how we are working now is slightly different than we initially anticipated. You need critical milestones.
Katie Debord: You also need to identify your uber users so that they can start evangelizing and talking to resisters about how they're using the technology. I think that's important as well.
Are there any closing remarks you want to make?
Alex Guajardo: The keys to a good partnership on both sides are transparency and ongoing communication. We can't make assumptions that other people know what we are thinking. On either side, we have to be vocal, open, and transparent about what we need and what we want. If we want our partnerships to thrive, we need to communicate what our expectations are and make sure that difficult conversations take place in a helpful and professional context. We need to remember that the discussions that happen around problems are ultimately the most beneficial.
Katie Debord: Part of design-thinking theory is that you have to keep empathy top of mind. And when you are engaging in transformation efforts, keeping that empathy top of mind is important.
Want more articles like this?
Sign up for a complimentary subscription to Today's General Counsel digital magazine.
Get our free daily newsletter
Subscribe for the latest news and business legal developments.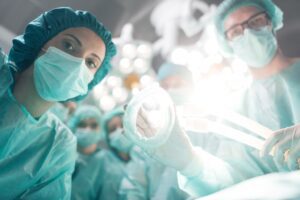 In 2018, Robert Salim, 67, realized he was seriously ill. After numerous […]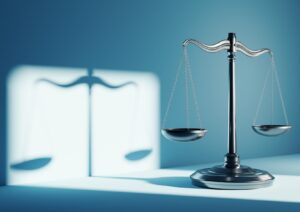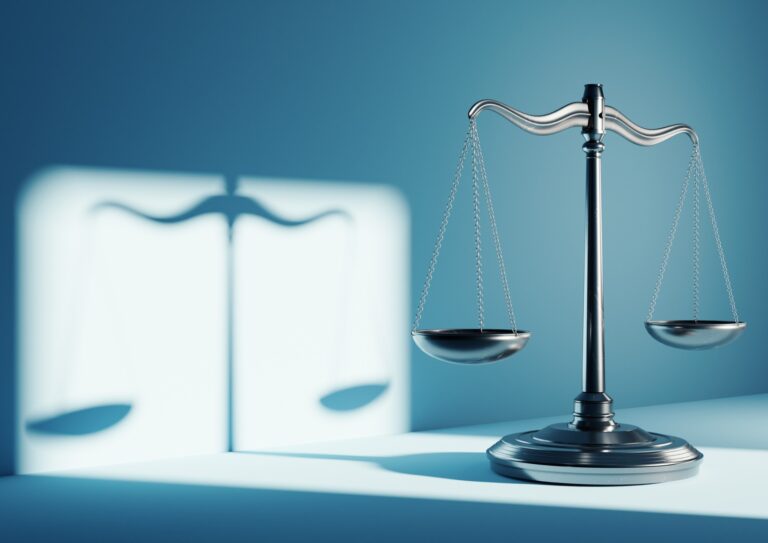 New rules aimed at lenders, investment funds, and other financial entities would […]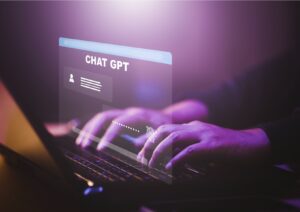 There are companies investing hundreds of millions of dollars or more into […]