Is Clarence Thomas Married To A Conflict Of Interest?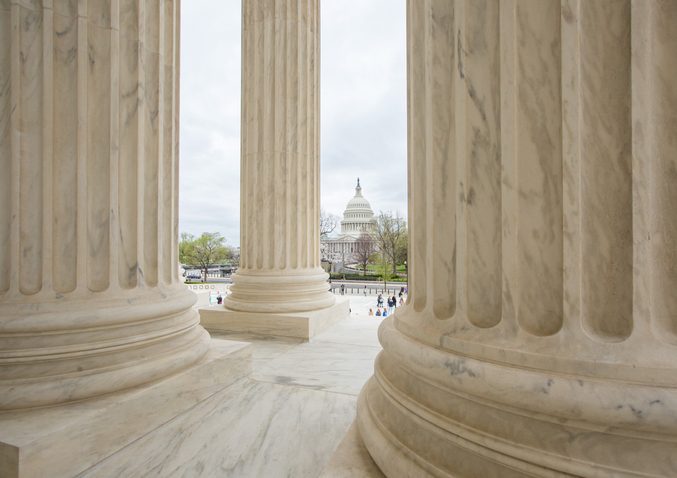 Writing in the New Yorker, Jane Mayer makes the case without quite stating the conclusion, quoting experts like Bruce Green, a Fordham professor specializing in legal ethics, who says it's close to the line but doesn't quite cross it. Justice Thomas's wife, Virginia (Ginni) Thomas, is an outspoken activist whose connections to hard-right groups go far beyond an occasional speaking gig or advisory seat. She has, Mayer writes, "declared that America is in existential danger because of the 'deep state' and the 'fascist left,' which includes 'transsexual fascists.'" She is on  the advisory board of a group that promotes conservative values in academia and that has filed an amicus brief in the affirmative-action suit against Harvard. She was a consultant to a conservative group whose founder submitted an amicus brief to the Supreme Court in support of Trump's Muslim travel ban. And she runs a lobbying firm called Liberty Consulting, whose website, Mayer writes, "quotes a client saying that she is able to 'give access to any door in Washington," and she was a supporter of Donald Trump and the January 6 demonstration (before it turned violent).
Green, the Fordham professor, acknowledges the couple present the appearance of a "mom-and-pop political-hack group," and he says it's hard to imagine they don't discuss court cases, but he doesn't think the conflict reaches the level that would require Thomas to recuse himself in various scenarios cited in Mayer's article.
Meanwhile, on The Federalist website, attorney Mark Paoletta, a partner at Schaerr Jaffe LLP who served as general counsel at the Office of Management and Budget under Trump, makes the case that Mayer's article is a hit piece riddled with "falsehoods and distortions." He also says she fails to acknowledge that liberal justices have not recused themselves under circumstances which he maintains are comparable to those cited by Mayer.
Find this article interesting?
Sign up for more with a complimentary subscription to Today's General Counsel magazine.