Lithium-Ion Cargo Fire Liability May Extend Farther Than You Think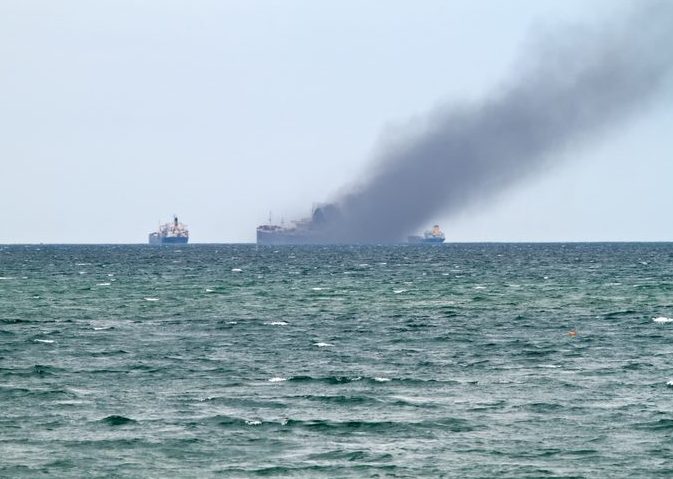 The quantity of lithium-ion batteries currently being shipped at sea is staggering. It includes the raw batteries themselves, more than 80 percent of which are manufactured in China, and finished products ranging from cars arranged on decks to computers, power tools and appliances packed into shipping containers. The future promises more of the same. Li-ion batteries are considered essential for any significant increase in the use of alternative energy source like solar and wind, because they smooth out the production fluctuations. As for electric vehicles, one estimate projects that by 2030 demand for batteries will increase by more than 1600 percent over 2020 levels.
"The increased volume of products powered by Li-ion batteries being shipped around the world has highlighted the risks that these batteries pose not only to the vessels carrying them, but also to the crews on board," says a post from Marsh McLennan. Li-ion battery fires are especially nasty, it notes: They are hot, they don't need external oxygen, and pouring water on them can make them worse.
"Additionally at risk," the Marsh post adds, "are the cargo owners of goods with Li-ion batteries, who may be held liable for injuries or loss to other parties caused by a Li-ion battery fire."
To reduce that risk, the advice is to work with your broker to to determine if such potential liabilities as loss or damage to the vessel and property belonging to other parties is covered by your policy. Another recommendation: Confirm that the cargo is properly labeled. Failure in this regard could obviously threaten crew and firefighters, but it could also result in the rejection of an insurance claim, on the grounds of "misdeclaration."
The issue of misdeclaration is addressed in an article from Standard Club, a UK-based mutual insurance association that provides Protection and Indemnity (P&I) insurance for the marine and energy industries. The article was written following the U.S. Coast Guard's report on a major lithium fire that occurred early in March of this year at the port at Long Beach, CA. "The main reason for fraudulent misdeclaration of dangerous cargoes in containers," it says, "is to save time and money – and because there is a good chance of getting away with it. Fraudulent shippers want to avoid IMDG [International Maritime Dangerous Goods] restrictions on packaging and quantity, avoid additional carrier DG charges, and bypass carrier restrictions & bans on carriage of certain hazardous cargos."
The post notes some of the tactics used by fraudulent shippers and recommends some due diligence strategies for its members, first on the list being "KYC" (know your customer). Another recommendation:  Be aware of the widespread use of so-called colloquial synonyms, e.g., "synthetic resins," instead of what's actually in the box: scrapped lithium-ion batteries. -Today's General Counsel/DR
Find this article interesting?
Sign up for more with a complimentary subscription to Today's General Counsel magazine.