Planning Enables Legal Departments to Handle Pandemic-Related Litigation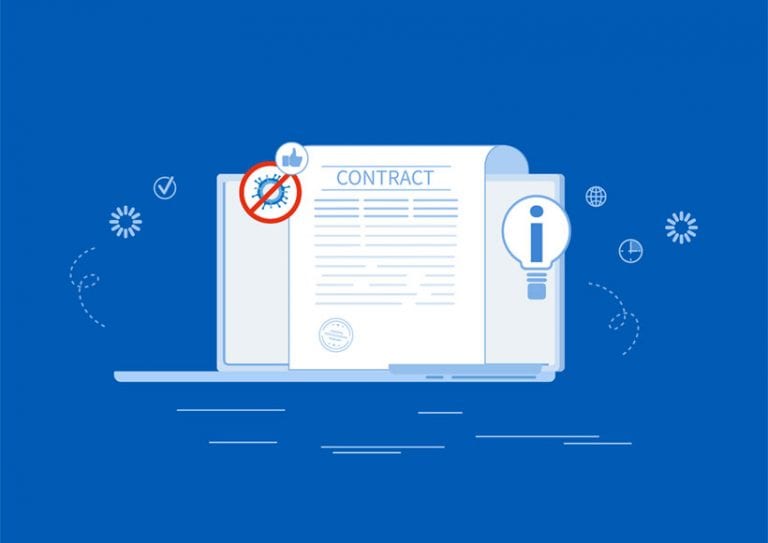 It is not really true that no one saw the COVID-19 pandemic coming. Many lawyers, insurers, healthcare providers and others involved in risk management knew it was coming, or at least they knew something like it was coming. Game-changing tragedies are nothing new. Risk managers have been preparing their operations to deal with the unknown for a long time — through infrastructure, financial hedging, legal protections and other tactics.
In-house law departments are in a unique position to minimize the effects on a company from events like the COVID-19 pandemic by building a coordinated and thoughtful approach to law department operations. Whether a single general counsel or a global in-house team, law departments deal with day-to-day legal and strategic questions to help the company grow and function safely and in compliance with law. In-house attorneys manage "operations" work related to contract issues (e.g., negotiation, interpretation and termination strategy), pre-litigation dispute resolution, risk management and other business-centric duties designed to grow and safeguard the company.
Operations attorneys are not often pure litigators. Although segregation of operations and litigation duties make practical sense, it can lead to substantial gaps in the overall risk profile for successfully handling disputes. To minimize risk, savvy operations attorneys routinely partner with litigators to build in strategic protections at the beginning of a business decision or a venture's life cycle.
Understand the company's tolerance level for litigation.
When building a comprehensive litigation risk mitigation strategy, operations attorneys benefit from thinking like litigators. Litigators provide valuable insight and experience into what obstacles can be erected or torn down at the initial business decision stage to limit disputes generally, as well as putting the company in position to efficiently win a dispute through effective negotiation or a calculated dispute resolution technique.
Here are some strategies to develop with litigation counsel.
Follow Core Practices and Goals: Adhering to a core understanding of strategic goals, best practices and industry standards helps avoid conflicting approaches and unexpected risk. The operations function must analyze each opportunity or threat by thinking in terms of the core understanding and vision of the company, and how addressing the matter at hand will further it or erode it. Without a global understanding of priorities, operations can inadvertently increase litigation risk by failing to account for abnormal events.
Some common mistakes are permitting the business to deal with litigious companies or within a notoriously litigious or government-scrutinized industry; permitting receivables to grow too large or remain outstanding for too long; and placing employees in risky work situations.
Develop Universal Contracting Principles: Although it is impossible to create a one-size-fits-all contract, operations attorneys can identify language and conditions of core concern and educate the business team about the reasoning behind them so they are better able to negotiate. Whether company attorneys or counterparty attorneys draft the contract, the operations attorney managing negotiations should be sensitive to including the key principles. These principles include thoughtful force majeure clauses; whether disputes will be resolved through business negotiation, mediation, arbitration or federal/state court; whether the company will charge (and conversely be charged) interest on unpaid invoices; whether prevailing parties will be awarded attorney fees and costs; what insurance coverage is acceptable for a given line of business; and whether there are jurisdictional laws or norms to consider.
Incorporating the right language can be critical to avoiding, limiting or exacerbating disputes if they arise by creating leverage against an adversary taking a more aggressive stance, or disregarding payment and other contract terms.
Implement Company-Wide Dispute Resolution Strategies: Understand the company's tolerance level for litigation. Does the landscape make it more beneficial to vigorously defend/prosecute litigation as a deterrent and overall cost savings, even if the individual matter is a loss? Or is it better to end disputes quickly through settlements, even with over-payments, to ensure minimum public exposure and avoid litigation risk and associated business disruption costs? Are there segments of company operations or different geographic locations that require different tactics? For example, discrimination/harassment matters may not be appropriate to keep private, but government investigations of financial activities may be. The company's overall approach can be included in initial contracting and business negotiations, setting the stage to increase or decrease leverage in the event of future disputes.
Understand Litigation Risk/Reward: Business cannot succeed without risk. The question is the tolerable level of risk calculated by experienced business executives, operators and attorneys. Successful business partners know the core business and its principles, and use that understanding to help counsel for risk in business undertakings. Understanding the industry, competitors' behavior, expected benefits from a venture, and employee morale and culture inform the advice appropriate for major business decisions.
By incorporating the above-
mentioned contracting tactics, a company can increase the reward and decrease the risk for pursuing or defending a dispute aggressively, having already created leverage for the counter party to yield to more favorable settlement terms, or setting the company up for success in the event of full adjudication.
Although these best practices have a significant impact on  company operations during "normal" times, their benefit is highlighted in today's "new normal." Whether a COVID-19-related dispute arises from failure to pay, failure to fulfill, claims of force majeure or other reasons, well-prepared law departments will find themselves armed with the tools and leverage to resolve these matters efficiently as a result of forward-thinking operations attorneys who partnered with their in-house and outside litigation counterparts.
By Timothy Fazio is a partner in Hunton Andrews Kurth's Boston office. He is a litigator and trial lawyer who concentrates on complex business litigation and government/internal investigations.
Article originally appeared in Today's General Counsel's digital magazine:
Find this article interesting?
Sign up for more with a complimentary subscription to Today's General Counsel magazine.