Remote Work, Employee Well-Being and COVID-19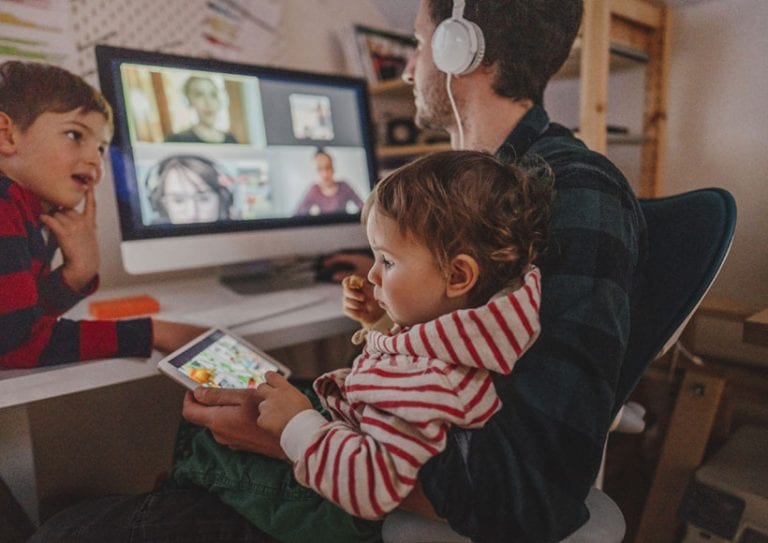 The COVID-19 pandemic has been a catalyst for fundamental workplace change globally; but at least in the area of remote work, the long-term implications might be different in the United States than in Europe.
That's according to two surveys our firm recently conducted of in-house counsel and human resources executives in the United States (the COVID-19 Return to Work Survey, released in May 2020) and Europe (the European Employer COVID-19 Survey, released in September 2020). Both gauged employer sentiment around a host of pressing employment matters, including how employers view the shift to remote work and whether flexible work policies will change in the long term due to the pandemic.
The European survey also addressed steps that companies have taken regarding employees' mental health and well-being, which has become an increasingly important topic on both continents prior to — but certainly as a consequence of — the pandemic, to say nothing of the broader events of 2020.
Different Views in the United States And Europe
Despite the abrupt shift to remote work early this year, media reports in subsequent months showed European employers pleasantly surprised that a body doesn't need to be behind a desk to produce quality work. That change in thinking came through in survey results too, as 61 percent of the more than 750 European executives we surveyed said a greater acceptance of remote work would be a positive long-term effect of COVID-19. Additionally, queried how their organizations are managing work-from-home requests, or plan to manage them when offices reopen, 41 percent replied that they are making or will make changes to their remote work policies to increase flexibility — so long as employees demonstrate the ability to work effectively from home.
European executives said that COVID-19's most positive long-term effect would be a greater acceptance of remote work.
Interestingly, employers responding to our U.S. survey did not express the same level of enthusiasm about the long-term shift to remote work. Only 30 percent said they plan to change policies to allow employees to continue working remotely. Further, 52 percent of our U.S. respondents plan to remain flexible on remote work only until the pandemic subsides, compared to 34 percent of European respondents who responded similarly. And 80 percent of European respondents are requiring or considering requiring more employees to work remotely somewhat or to a great extent, compared to 50 percent of U.S. employers. Forty-one percent of European respondents say they are considering the shift to achieve greater productivity. I see this as representing a remarkable shift in attitudes that will likely only grow as employers compete for talent in a post-pandemic environment.
Focus On Mental Health
Another major workplace concern for employers has been employees' mental health and well-being. Although many employees find the option of working remotely beneficial, there are some drawbacks that employers should consider when adjusting policies, based on the past several months' experience.
Research shows that employees can be just as productive, or even more productive, working remotely; but a remote environment can blur the separation between work and home, which can lead to burnout. Remote work environments can feel isolating at a time when uncertainty outside of work is triggering stress, anxiety or depression.
Data from our European survey offers a silver lining: The vast majority (90 percent) of employers surveyed are taking at least some action to address employee mental health and well-being during the pandemic. More than half are offering more flexible work schedules to accommodate employees' personal needs, and 51 percent report soliciting frequent feedback on their organizations' response to the pandemic.
We know many U.S. employers consider the issue a top priority as well, and companies on both continents are making strides to provide flexibility and listen to employees' concerns — though there is more that can be done.
Employers can consider offering Employee Assistance Plans (EAPs) and providing managers with additional training to support employees in need of help. Indeed, our European survey shows that about a third of participating employers are implementing mental health support services and EAPs, and nearly a quarter provide managers with additional training.
During these difficult times, it is important that employers focus on facilitating connection among their teams and encouraging collaboration and relationship building. In addition to supporting the well-being of individual employees, these steps benefit the organization as a whole by enhancing a healthy work environment and employee retention.
Although there is greater acceptance that employees can be just as industrious at home, companies recognize that there are important elements of the employee-employer relationship that are difficult to duplicate in a remote environment. I call those the kind of "soft-productivity" that leads to loyalty and identification with the company's values. To position themselves for long-term success, companies have to find new ways to foster creative thinking and idea generation, as well as feelings of connection to the company — without which, for example, talent may be more easily lured away by competitors.
As the COVID-19 pandemic quickly ballooned from a health and safety issue to an unprecedented crisis impacting every facet of workforce management, employers have had to constantly pivot and address issues that were unthinkable a year ago. Although the long-term implications of the crisis remain to be seen, the rise of flexible work schedules and the focus on employee well-being are two areas that are likely here to stay. I think we can all call that a positive effect of this crisis.
By Stephan Swinkels is a shareholder with Littler Mendelson. He leads development and integration of the firm's global practice.
To download the Littler European Employer COVID-19 Survey Report referenced in this article, please visit: www.littler.com/europe-covid-19-survey.
Article originally appeared in Today's General Counsel's digital magazine:
Find this article interesting?
Sign up for more with a complimentary subscription to Today's General Counsel magazine.